A little about my art and me
Welcome to my website! I love colour. I love life. I love nature. I love painting. Please enjoy looking at my paintings here. If they make you feel a little happier, or uplifted, or raise a smile, well then, that's good!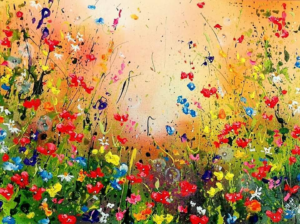 My pieces are calculatedly jovial but I am serious when I say that I put my heart and soul into my work. When I paint, I get in touch with the essence of 'me' and that makes my paintings part of my personal journey through life.  This, I hope resonates with you and brings some joy to your journey!
I create both original paintings and hybrid art paintings, and love when my art becomes part of a living and breathing space, be it at home or work.  This is why I make my art as affordable and accessible to you as possible.
Feel free to browse my gallery.  Here you will find my collection of original floral, woodland and animal art, and a selection of my hand-finished hybrid paintings on stretched canvas. – Gallery.  You can also shop online for original paintings for sale, or contact me if you are interested in commissioning a piece of art, or wish to enquire about a piece you like.  Gift vouchers are available here too.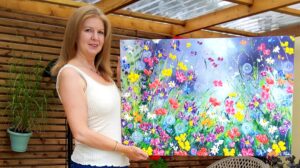 I live in North County Dublin and I am lucky to live close to meadowland, wilderness and the sea. That's where my imagination is fed, and where my love of colour and untamed nature finds inspiration.  My palette consists of vibrant acrylic paints that heighten nature's colours. I apply the paint in a loose, semi-abstract and free style to manifest wild and random growth. The texture of the paintings gives a wealth of tangibility and invites you into the paintings.
I have been painting for over 25 years, and qualified from the National College of Art and Design in Dublin. I exhibit in  exhibitions and galleries, and  I also display and sell online.  I love to work directly with buyers to produce pieces that are special and individual to each person.  My pieces now reside happily in a lot of different places around the world!
Thanks for visiting my website and I hope you enjoy the browse.  If you like any paintings that you see, and would like to enquire further, please feel free to contact me.  I am always happy to hear from you and to answer your queries, or give advice or recommendations!